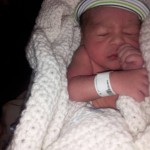 I would like to welcome my grandson, Riley James Dowling, to this wide, wide world!
Riley was born to my step-daughter, Caitlin Elise Vickers, on May 21, 2013 at about 7pm.  He came into the world weighing 6lbs and 7oz.
I wish all my love and the best of life to both Riley and his mom!!