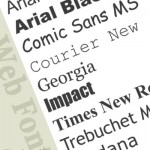 Editor's Note: This article is part of the Tales of A Linux Switcher series.
One of the things I have always hated about using Linux is the difference in the base font collection.  Many web designers still use the defaults of Arial, Verdana and Georgia.  The reasons for this are that these fonts are available on the two main commercial operating systems, Mac OS and Microsoft Windows.
Until the majority of websites support webfonts like Google Web Fonts or Monotype's fonts.com service, we still need access to the standard MS fonts. For more on this situation, check out the article A Web Designer's Guide to Linux Fonts by Six Revisions.
Fortunately, these fonts are available for installation on Linux.  You can download them directly from the Sourceforge repository or look for the package in your particular distribution.
In Ubuntu you can install them from the Ubuntu Software Center by searching for the package named ttf-mscorefonts-installer or by using the following on the command line (Note: if you install from the command line then you will be prompted to accept the license aggreement in an ncurses interface.):
sudo apt-get install ttf-mscorefonts-installer
Either way, you will end up with the following additional fonts:
Andale Mono
Arial Black
Arial (bold, italic, bold italic)
Comic Sans MS (bold)
Courier New (bold, italic, bold italic)
Georgia (bold, italic, bold italic)
Impact
Times New Roman (bold, italic, bold italic)
Trebuchet (bold, italic, bold italic)
Verdana (bold, italic, bold italic)
Webdings
To see the difference in the display of websites after the installation, check out the following screenshots from this website.
As you can see the use of these fonts definitely make a difference.  Happy surfing!